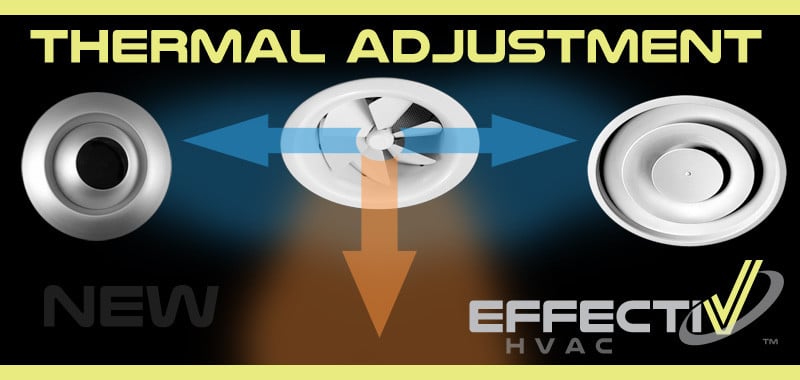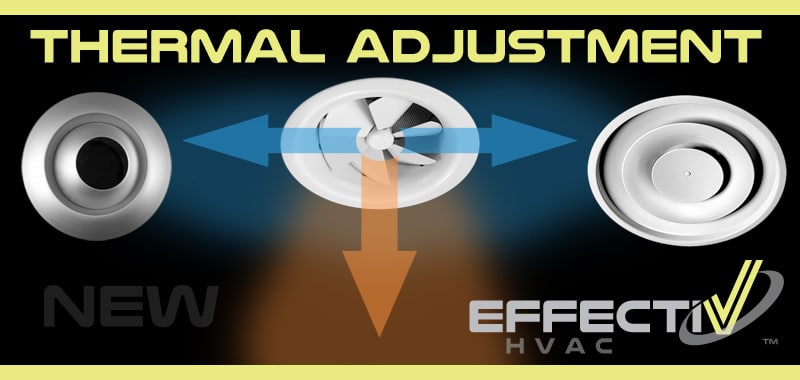 EffectiV HVAC™ now offers two thermal adjustment systems for its AX6, DCG and KAM adjustable diffusers: ACTIF and DIFTRONIC. ACTIF diffusers are autonomously thermo-adjustable, while DIFTRONIC uses a temperature probe and actuators to adjust the diffusers based on supplied air temperature for ultimate comfort.
It is important to note that these are not thermal VAV diffusers. These diffusers do not control the volume of air based on temperature difference. They focus on air diffusion, adjusting their diffusion pattern based on supplied air temperature and independently of air volume. They help ensure optimal air distribution comfort for both heating and cooling, leaving the air volume adjustment to other components.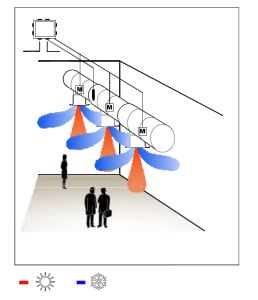 DCG aluminum 3 cone round diffusers and AX6 aluminum round swirl diffusers are ideal for supplying air from the ceiling in commercial and industrial applications. Both products can be adjusted to provide an horizontal airflow in air conditioning mode and a vertical airflow in heating mode. This allows the supply of air to flow more efficiently, keeping the occupied zone comfortable throughout the seasons while saving considerable amounts of energy.
KAM-D Duct Mounted and KAM-W Surface Mounted Nozzle Jet Diffusers are ideal for supplying air horizontally in very large spaces, such as airports and train stations. KAM can be adjusted up or down to move air in the required direction or to compensate for temperature variations.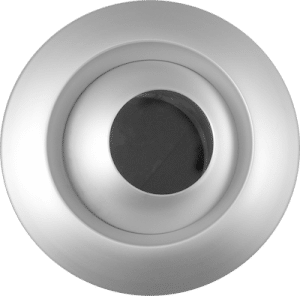 ACTIF

ACTIF products feature an autonomous thermal adjustment by means of a thermodynamic spring or piston. ACTIF diffusers do not require any wiring and the installation procedure is exactly the same as for ordinary diffusers.
DIFTRONIC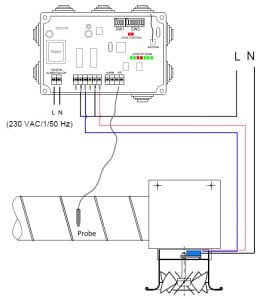 Diftronic automatically controls the air supply angle for adjustable diffusers with an electrical On/Off actuator. The system consists of a temperature probe connected to a control panel managing 1 to 30 diffusers. The probe, installed in the supply duct, transmits the air temperature to the control panel. When supplied air temperature is higher than 79ºF (26 ºC), the control orders the actuators to position the diffusers in heating mode to avoid air stratification. If the temperature is lower than 79ºF (26 ºC), the diffusers are positioned in cooling mode to avoid an excessive air velocity in the occupied zone.
Which one to pick?
The DIFTRONIC system is more precise in its measurement and regulation, however ACTIF diffusers are cheaper to purchase and install.
Properly used, both systems will allow for amazing improvement of occupants' comfort levels, as well as significant energy savings in both heating and cooling modes.