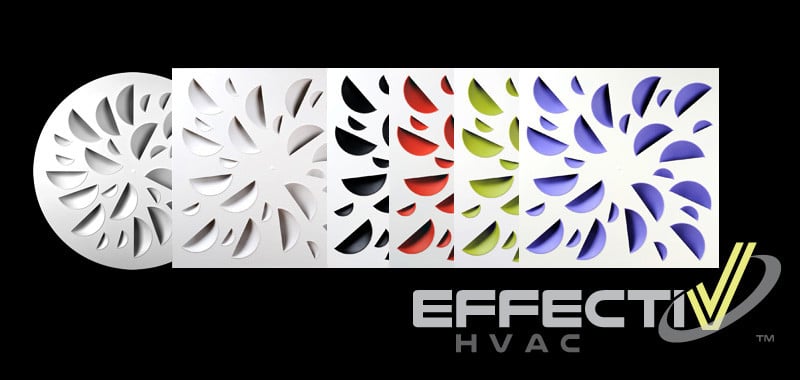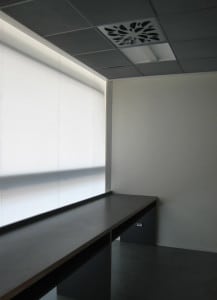 Le diffuseur d'air commercial NEX par EffectiV HVAC a été conçu avec esthétique et performance en tête. Le diffuseur NEX peut être décrit comme un diffuseur architectural hélicoidal à haute induction. Il est disponible en cinq couleurs d'éléments concaves: blanc, nuit, rouge, vert pistache et bleu lavandre.
(suite en anglais)
This diffuser is the perfect choice for modern, trendy or high end commercial buildings including hotels, restaurants, bars and boutiques. It is also very popular in dental clinics, hospitals, schools and office buildings. A NEX diffuser always looks great in a reception area or conference room ceiling as well.
The round NEX diffuser looks beautiful in both open ceilings with visible ducts and drywall ceilings, while the square model can replace standard diffusers and add an innovative touch to false ceilings. Another great characteristic of the NEX diffuser is the fact that its concave elements do not allow for a direct view of the non-attractive plenums and ducts behind it, a common problem with most commercial ceiling diffusers and a concern for architects and interior designers.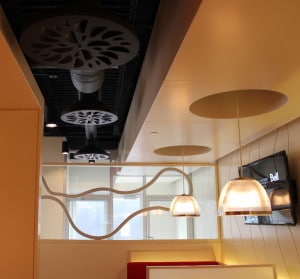 EffectiV provides extensive documentation explaining the technical benefits of the NEX diffuser, and detailed technical information is available upon request. But it should be noted that NEX diffusers also greatly improve room comfort and energy efficiency of the overall HVAC system. So don't worry, performance is not a tradeoff for great looks here!
NEX diffusers are favorites of Architects and Interior Designers because of their innovative and unique appearance, attractive circular lines, and vivid concave element colors. Considering performance and efficiency, Mechanical Engineers also love this diffuser. All of these features provide benefits to both building owners and occupants.
For more information about the NEX diffusers, visit https://EffectiV-HVAC.com